Media Voices co-host Peter Houston sends out a weekly newsletter called The Magazine Diaries. Each edition shares the best magazine publishing ideas he comes across for you to steal, adapt or reuse.
The world needs you to be you
Over the last week or so I have seen some incredible magazine covers and one spectacular home page. And, with your permission, I'm going to do things a little bit differently in this week's edition.
Just one idea, illustrated brilliantly four different ways.
Always. Be. You.
Get really angry
It's hard to overstate just how brave this cover actually is. Many people in The Northern Echo's distribution area voted for this clown man. To come out so strongly against him with this direct quote from an opposition MP has to be a risk. But they looked at the polls that said 66% wanted him to resign and went for it.
Say it again and again until someone listens
Every time there's a mass shooting in America, the Onion runs the same story. This time, following the senseless deaths of 19 primary school children and two of their teachers, they filled their home page with multiple versions of the story. Having the courage to make your point, even if it undermines your day-to-day mission, is the sign of a publisher that really trusts their audience.
Make people look closely
On first look, the headline is the scariest part of this Economist cover. But take a closer look at these stalks of wheat and the terrifying reality of what Russia's war on Ukraine is doing to global food supplies stares out of the dead eyes of every tiny skull.
Be part of the solution
Back in America and New York magazine took a stand against the Supreme Court's likely vote to overturn abortion rights. The cover flags up its access map project to provide country-wide information on where and under what circumstances abortions are available across America. The magazine and its sister site The Cut have removed their paywalls from this and other stories about finding abortion care.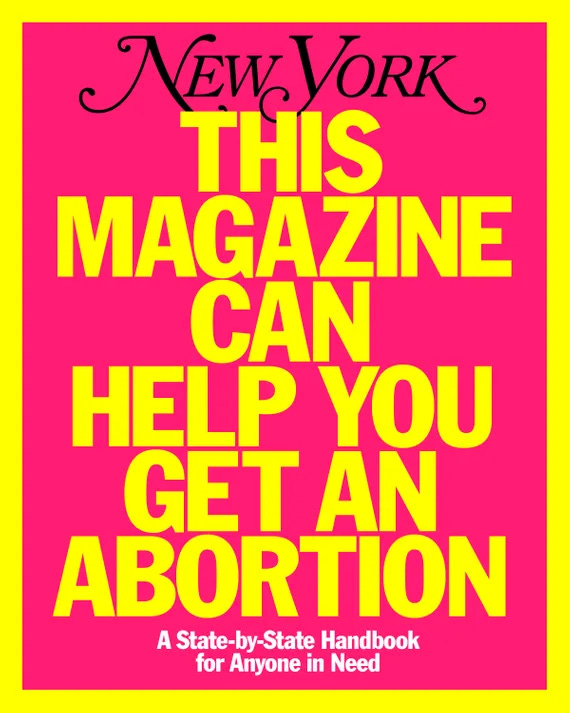 ---
Original edition published May 27th. Republished with kind permission. Subscribe to The Magazine Diaries to get three steal-able ideas in your inbox every Friday.